Richard van Emden will be publishing a book later this year about the Great War families left without a father or husband. Although stories of members of our family do not feature, some may recognise the cover.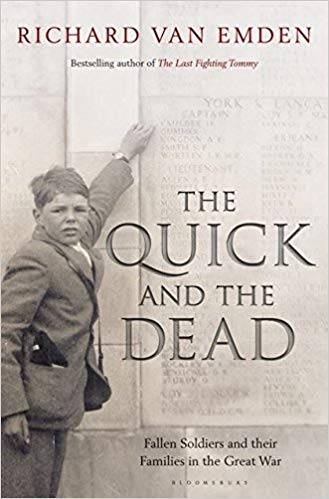 The picture was taken at Tyne Cot in the 1920s by Marjorie Faulder, widow of Harold Faulder, and shows my father pointing out his father's name.
A friend of the author saw the picture when I used it to illustrate a post on the Great War Forum and consequently Richard Van Emden approached me asking if he could use the image. My brother and I agreed (almost two and a half years ago).
The book's blurb reads:
At the end of the First World War more than 192,000 wives had lost their husbands, and nearly 400,000 children had lost their fathers. A further half a million children had lost one or more siblings. Appallingly, one in eight wives died within a year of receiving news of their husband's death. Few people remained unscathed and the effects of the conflict are still with us.

The Quick and the Dead will pay tribute to the families who were left to suffer at home while their husband, fathers and sons went off to fight, and the generations that followed. Through the stories in this groundbreaking history, we realise not just what became of our grandfathers but how their experiences influenced the children, grandchildren and great grandchildren of a generation that they left at home. Against all the odds some stories ended happily – missing fathers did return, men thought to be dead returned from prisoner of war camps to a joyous reunion. For others the loss, while difficult to bear at the time, gave them an independence, drive and ambition that ensured that their lives were successful and a fitting tribute to those who died.

Very few people know that only the first minute's silence on Armistice Day is in memory of the dead of the Great War and all the subsequent wars. The second minute is for the living, the survivors of the war, and the wives and the children they left behind. Through a unique collection of over fifty interviews, private diaries and a remarkable collection of unpublished letters written by the soldiers to their families back home, The Quick and the Dead is a history of those who are commonly forgotten and neglected when the fallen are remembered on Armistice Day.
Richard, who wrote Harry Patch's biography (amongst other books) tells me that in places it will be powerful and revelatory. It can be pre-ordered on Amazon.
Note that in the First Impression, the book mistakenly refers to this picture being taken at the Menin Gate. This was corrected to Tyne Cott in later impressions.
The paperback edition used a different cover illustration.