I have recently acquired a Carte de visite (CDV) of my Great Great Grandmother, Martha Fell. The purpose of this post is to record some details of it and see whether others who find this post can offer any thoughts on the card's origin.
Carte de visites are small cards 2⅛ x 3½ inches (about 55mm x 9mm) in size. Typically they were made in the mid Victorian era by photographers. They consisted of a piece of cardboard – usually with the photographer's details on the back with a thin albumen print pasted to the front. The process was patented in 1854 by André Adolphe Eugène Disdéri, and their usage continued until the early 1870's when they were superseded by Cabinet Cards (about the size of a modern post card). [Ref: Wikipedia: Carte de visite, accessed 7 April 2021]).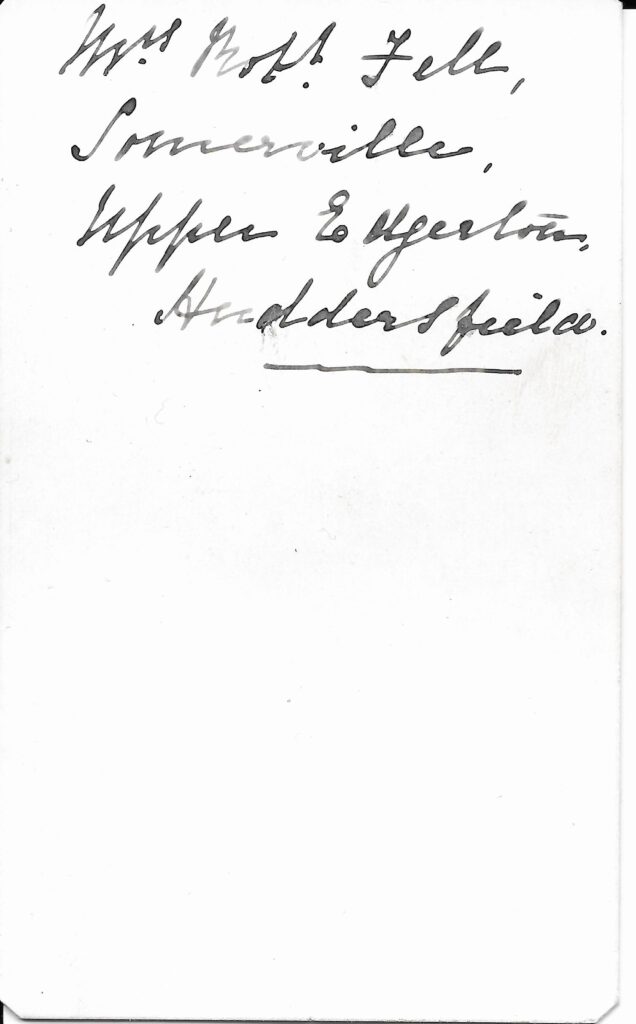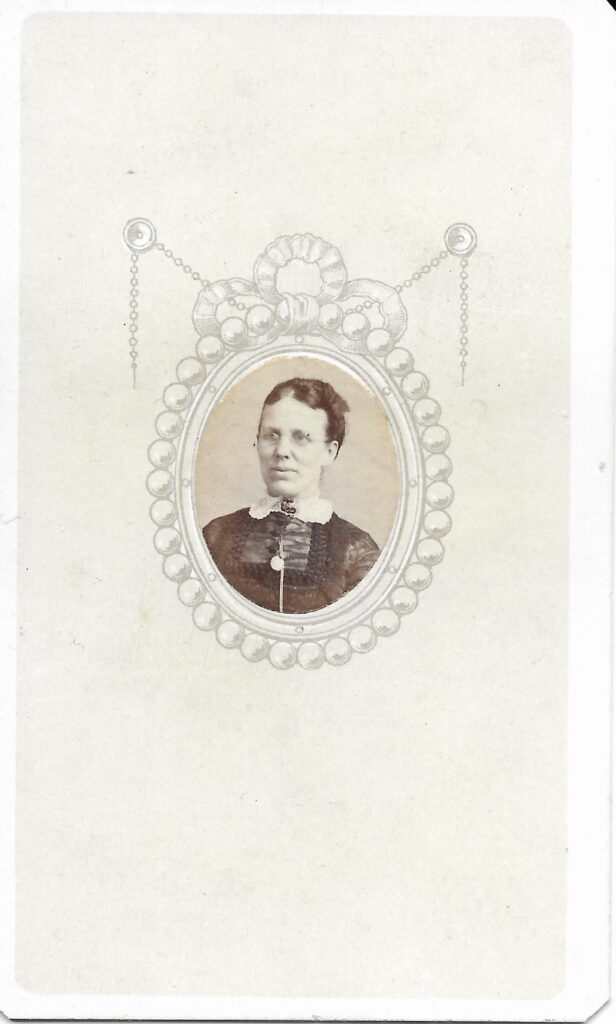 I was alerted to this card being for sale by Vicky Dunning, who as a sideline to her genealogy work likes to reunite photographs of Huddersfield people with their descendents or relatives. My thanks to her.
The photograph is identifiable as Martha because conveniently (and unusually) her details are on the back!
Martha Keighley married Robert Fell 20th September 1854 in Bradford. She was born 9th May 1834 and died 7th July 1920 in York.
Interestingly the back of the carte de visite does not have the details of the photographer who took the picture or created the card. This would normally be printed in an ornate style on the back.
This raises the possibility that this may not be a professionally produced card – and examination of the actual picture shows that it has been rather inexpertly cut out and mounted.
It has rough edges and is not well centred in the mount and is not upright.
The card is a little unusual in that it is a small photograph (about the size of a thumb print) on a relatively large mount without any photographer's branding. Most cartes de visites have a photograph which if rectangular covers most of the surface of the card and if oval covers a substantial portion of the card.
Might a family member have created this card using a "blank" mount which had no printing other than the border for the photograph? The image would have been cut out of an existing photograph and pasted on to the card. If so, for what purpose and when?
---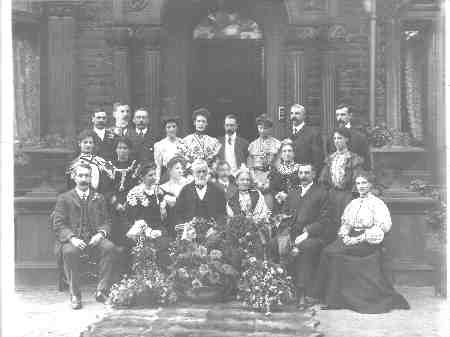 The Fells of Somerville have already been discussed on this blog. To me the card is clearly an earlier picture of the Martha Fell in the centre of the Golden Wedding (1904) celebration one – the facial characteristics are very similar.
In the Golden Wedding photograph she would have been 70; might she have been half that age in the Carte de visite photograph? If so was the CDV created around 1869 (towards the end of heyday of CDVs), or was it created much later using an "old photograph"?
Given the dark clothing, I wonder if it is a mourning photograph – but given the white lace trimming I suspect it would be late mourning (secondary mourning – ref: Alison Petch: Funeral and mourning clothing [accessed 13 April 2021 citing: Catharine Arnold 2007 Necropolis: London and its dead London Pocket Books]). If so who was she mourning?
Her Father and Mother were James Keighley and his wife Elizabeth Ramsden.
Her mother Elizabeth Ramsden probably died in quarter 2 of 1861 when Martha would have been about 27. Elizabeth Ramsden was on the 1861 Census but not the 1871 Census – when James was shown as married to a wife, Mary with a step-son Arthur Bentley. This would imply that James married a widow Mary Bentley after his first wife's death and before the 1871 Census. The only marriage [Free BMD] of a James Keighley to a Mary Bentley was in Q1 1864. So Elizabeth had to die between 7 April 1861 (the 1861 Census) and Q1 1864. From GRO indices the only death of an Elizabeth Keighley of approximately the right age in that date range was Q2 1861 in Halifax Registration District (age 52, implying a Year of Birth of 1809) – not quite the place expected given the Census records being in Bradford.
Her father James Keighley died 17 September 1888 when Martha would have been 54. James Keighley's last census appearance would appear to be in 1881. The Probate Calendar for 1888, lists a James Keighley who died 17 September 1888 at Victoria Park, Shipley in Bradford with Robert Fell of Edgerton listed as executor.
The other person who she is likely to have intensely mourned would have been her husband – but the probable date of the photo (of a much younger woman than the woman in the Golden Wedding photograph) would rule this out. the other possibility is it was some form of card to commemorate her death (7th July 1920) made up by one of her children or grandchildren.
The seller was unable to provide any further detail other than "the photo was part of a collection I bought last year and the only one in that style." It was not part of an album, so context is lost.